List of products by supplier: Kolektor ETRA
KOLEKTOR ETRA power transformers, oil transformers from 10 to 500 MVA and up to 420 kV.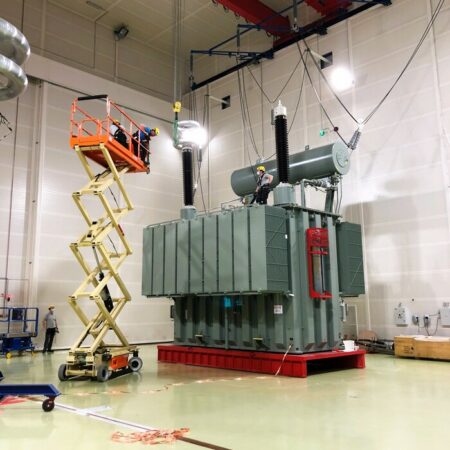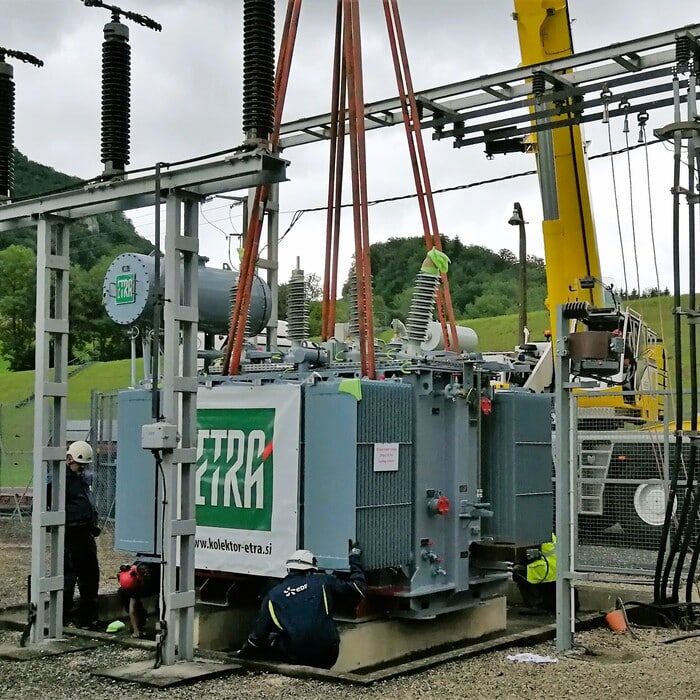 Kolektor ETRA is a company of nearly 400 employees, achieving a turnover of more than 110 million euros in 2018. Based in the capital of Slovenia Ljubljana (European capital) and close to 2 other major international airports that are Venice in Italy and Zagreb in Croatia. A large part of French technology is present in our products, since the license contract signed with ALSTHOM-SAVOISIENNE at the end of the 1970s
A subsidiary of the international Kolektor group since 2010 (world leader in switches for the automotive industry), ETRA has an ultra-modern factory at the cutting edge of technology, a complete quality system ISO 9001, 14001, 18001 and also has '' a CSR and environmental policy. This allows us to produce, transport and install high quality and reliable electrical transformers up to 500 MVA and 400 kV.
We design and build our transformers from A to Z, from studies to cutting the magnetic core, winding and drying under kerosene vapor, to assembly and finally to testing. Our teams of ETRA assemblers are able to install in France, or to carry out technical supervision on site in partnership with French transformer assembly companies. In particular thanks to the SONEC partnership.
Our latest generation high voltage laboratory faraday cage and our numerous approvals in the national European electricity companies attest to our real know-how. But also of a high level of rigorous quality ethics, while preserving European social standards, the respect of workers and the CSR commitments of a large group.
Visite virtuelle de l'usine KOLEKTOR ETRA :
Dernières réalisations France KOLEKTOR ETRA :
Kolektor ETRA, Slovenian manufacturer for over 80 years of power transformers and SANERGRID are proud to be able to announce 225 kV certification by EDF in 2018.
Already approved for 63 kV and 90 kV voltages, this new success is a recognition of the quality of our factories and the work provided. It inaugurates a new stage of collaboration with the world leader in energy EDF and confirms the progress of Kolektor ETRA on the French and French-speaking market in general.
Customers like EDF, GE, LAFARGE, Vattenfall, Vinci, RWE, UKPN, E-ON, IBERDROLA or BOUYGUES trust our products and the quality of our services. In addition, the list of our references is publicly available by contacting us.
KOLEKTOR ETRA power transformer catalog
In addition to power generation, transmission or distribution power transformers, KOLEKTOR ETRA's expertise is particularly recognized in transformers of hydroelectric plants, in transformers for wind and photovoltaic parks, as well as in substations on offshore platform. KOLEKTOR ETRA is a member of CIGRE and in particular of the working group on transformers with low noise and vibration levels.
ETRA or KOLEKTOR ETRA power transformers, oil transformers from 10 to 500 MVA and up to 420 kV.Special offshore and onshore wind applications and electricity distribution
Power transformers ETRA or KOLEKTOR ETRA, oil transformers from 10 to 500 MVA and up to 420 kV.Areas of expertise recognized in the production of hydroelectric power, offshore wind and underground transmission and distribution 
SanerVib®  noise reduction solutions for electrical transformers are made up of different anti-vibration pads and low frequency silentblocks specially designed to soundproof transformers, isolating vibrations up to 99%.